Guest reviews Casa Olea
"What a lovely spot to spend a few days. Your hospitality is warm and inviting, food is delicious, beds are comfy and rooms are wonderful.." Don & Becky, USA.
"Thanks for the perfect stay! We really appreciated all your support, your useful hints and the well figured-out walking trails. We'll definitely come back!". Tanja & Jochen, Germany.
"What a wonderful intro to Andalucia! We used the place as a base to explore the region. Best quality food & accommodation all round – and the loveliest dog to accompany our walks!" John, Nathalie & David, Australia.
"A perfect bolthole in Spain. Such as wonderful way to spend time – lazing by the pool, snoozing in the hammock & rounding off the day with wonderful food & wine! We'll be back in October to do all the walks we'd imagined ourselves doing this time!" Kate & Chris, UK.
"Una estancia absolutamente genial, un lugar para reecontrarse con el espirirtu y los buenos momentos. Gracias!" Cristina & Sebastian, Argentina.
"This was fantastic! We initially booked only 2 nights and within 5 minutes of being here knew we had to stay 4..!" Merlin & Backy, USA.
"Morning walks, lazy afternoons by the pool, dinner under the stars - we feel renewed. Thank you." Tristan & Sana, UK (July 2010).
For more reviews, read what our guests say on TripAdvisor.com.
Tripadvisor Travellers Choice – ranked in the Top 25 B&Bs and Inns in Spain 2019.
Listed in Tripadvisor´s Hall of Fame, the top-rated B&Bs & Inns in Spain for the past 5 years.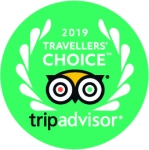 Top 25 B&Bs & Inns in Spain, Tripadvisor 2010-19